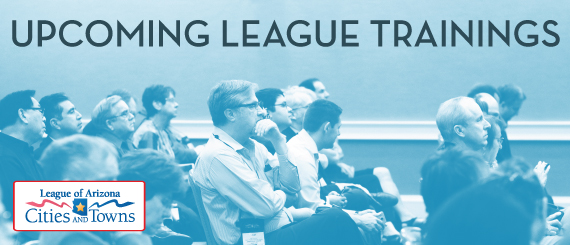 League Training: Municipal Grant Writing 101
Everything you need to know about finding and writing grants for your community!
When: Wednesday, February 20
Location: League of Arizona Cities and Towns, Room 101
Time: 9:00 a.m. - 2:00 p.m. (with working lunch)
Get answers about everything grants by spending an informative day with one of the Arizona League of Cities and Towns long-time grants-related instructors.
What will you learn?
Understanding the types of grants
Familiarizing yourself with grant terminology
Researching government grants (Arizona and federal)
Researching Arizona foundation/corporate grants
Using a go/no-go grant request assessment to eliminate wasted time and money
Preparing for grant submission processes
Knowing the documents funders request from grant applicants
Preparing municipal staff for grant seeking
Planning ahead for matching funds grant requests
Budgeting for internal and contract grant writers
Meeting governing body line of accountability requirements for grant applications
Signing grant award contracts and agreements
Acknowledging the types of funders that need formal documents of appreciation
Knowing post-award reporting requirements
Planning and plotting your calendars for grant close-out reporting
There will be lots of time for questions and answers throughout the workshop.
What's included in your registration?
Grant Writing for Dummies textbook (320 pages of everything you've always wanted to know about grants)
Tabbed notebook with resource files to assist you with effective grant seeking and grant writing
Who: Dr. Beverly Browning ("Dr. Bev")
Dr. Beverly Browning (Dr. Bev) has been securing grants and contract awards for her clients for 43 years. She has secured over $450 million for municipal government and nonprofit organizations and is the author of 43 grants-related books.
Cost: $120 (materials and lunch are included).
Those attendees present for the full workshop will have a chance to win a Chromebook computer.
Registration: To register for the Grants Training, click here.
Questions? Email us at league@azleague.org or call 602-258-5786.