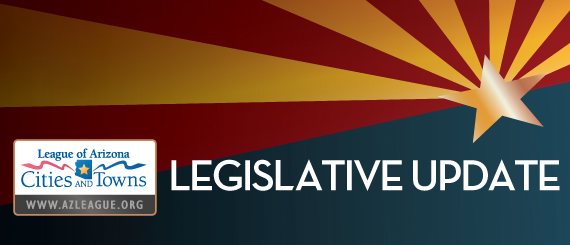 Small Cell Overview
On March 31, 2017, Arizona became the first state to adopt wireless industry-supported legislation granting right of way access to wireless providers to deploy technology known as small cell. Small cells are defined by the Federal Communications Commission (FCC) as low-powered wireless base stations that typically provide coverage for targeted indoor or localized outdoor areas ranging in size from homes and offices to stadiums, shopping malls, hospitals and metropolitan outdoor spaces. The installations of this equipment help wireless carriers add capacity to their networks to provide better access to cell phone coverage and high-speed wireless data services.
HB 2365 was supported by the four major wireless companies, AT&T, T-Mobile, Verizon and Sprint, as part of a nationwide effort to remove "overly-burdensome siting ordinances" and "excessive fees to gain access to municipal rights of way" to expedite the deployment of these wireless facilities and meet the exponential growth in mobile data usage. Florida, Colorado, Texas and Virginia are among the states that have adopted similar legislation while other states are considering bills on this subject.
Each introduced bill is different, but they all have common elements such as expedited timelines for processing applications, reduced and capped fees for right of way use and applications, presumed application approvals and limited scope for local governments to deny applications, and prohibited or limited zoning authority over attachments and new poles. The FCC has also taken steps to expedite deployment of wireless infrastructure by releasing a notice of proposed rulemaking in April of this year seeking comment on how current federal, state and local regulations impact the speed and cost of deploying wireless infrastructure, among other issues.
CTIA, the wireless industry's trade association, cites FCC data estimates showing that today nearly 70% of high-speed broadband usage in Arizona is conducted on mobile devices and wireless subscriptions have grown by 24% since 2010. In addition, they estimate wireless data usage has increased 238% since 2015.
In an effort to increase network capacity to support this demand for wireless connectivity, wireless companies have been deploying small cells on city-owned infrastructure, such as street lights and traffic signals, to increase cell coverage in areas that are not being served or are underserved by traditional macro cell towers. The technology is called small cell, but the equipment can be up to 28 cubic feet, the size of a household refrigerator, with up to six cubic feet of antennas, and attached to utility poles that can be up to 50 feet tall. Without standards to manage where new utility poles are erected and small cells installed, and how they blend in with the surrounding community, citizens will benefit from the increased cellular connectivity but could face increased visual blight and decreased property values.
In Arizona, small cells that have been deployed added capacity to wireless networks to provide flexible coverage that businesses and citizens of our state rely on while maintaining the visual character of the community. Our cities and towns recognize that the growing digital economy requires a new and robust network of infrastructure coupled with a regulatory framework that allows for the fast deployment of new technology without sacrificing the aesthetics of our communities. That is why cities and towns of Arizona worked with the industry on crafting HB 2365 to allow for the streamlined deployment of small cell equipment while achieving our primary goal to manage design standards, require equipment to be stealth and concealed and meet applicable codes and public safety regulations, among other requirements.
Small cells and utility poles that meet these standards and specified size requirements are exempt from zoning review, which will expedite the siting process. Larger monopole structures and wireless facilities are subject to zoning review and all regulatory processes for managing the rights of way, which will provide cities and towns flexibility in determining the appropriate location and concealment of this equipment.
Cities and towns that have already been working with wireless carriers on small cell equipment siting will need to thoroughly review this new law to determine its impact on existing agreements, zoning codes and regulatory processes for siting new small cells, monopoles, and utility poles in the right of way. The League has published a document that will provide guidance on how to comply with this new law.
For questions, please contact League Legislative Associate Tom Savage at tsavage@azleague.org.