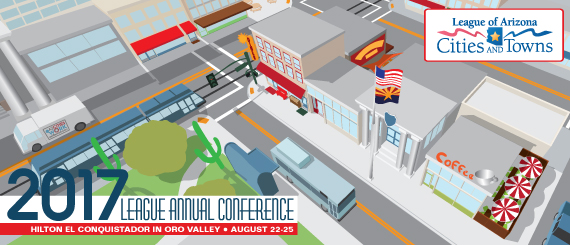 2017 League Annual Conference Recap
Thank you to all the attendees and sponsors for making the 2017 Annual Conference in Oro Valley a success!
Annual Conference Survey:
To help us improve our conference, please fill out the 2017 Annual Conference Survey. Thank you in advance for your feedback.
Download session presentations and audio:
View the conference program, download session presentations and listen to audio from conference sessions. 
2017 Conference Presentations and Audio
Note: we will be continuing to add updated presentations as well as the audio of the sessions throughout the week.
Thank you to our sponsors:
The conference would not have been possible without the generous support of our sponsors. View the full list of League Annual Conference sponsors here.
Questions
If you have any questions, please contact League Staff at league@azleague.org or 602-258-5786.
2018 League Annual Conference – See You Next Year!
Save the Date! The 2018 League Annual Conference will be held August 21 – 24, 2018 at the Phoenician.