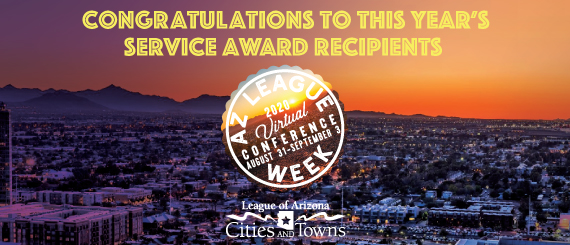 2020 League Service Award Recipients
Congratulations to the 2020 League Service Award recipients! Individuals were recognized for years of service to their cities and towns.
The League recognized recipients at the Annual Business Meeting during League Conference Week. Service Awards were bestowed upon mayors and councilmembers who have served their communities for eight, 12, 16, 20 and 28 years of service.
View the full list of recipients here.
The League also recognized its newest Life Member at the Annual Business Meeting. Former Tempe Mayor Mark Mitchell is celebrated for his many years of service to both the City of Tempe and the League, where he served as President of the Executive Committee. Life membership is the highest honor given to a League Executive Committee member.