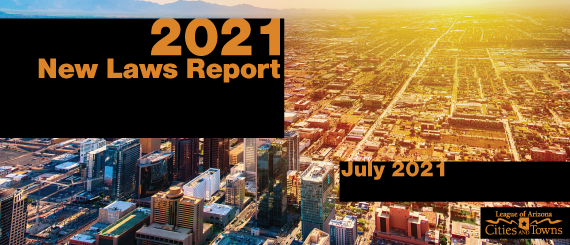 League New Laws Report
The 2021 New Laws Report of the League of Arizona Cities and Towns is now available. The report is designed to serve as a guide to enacted legislation from the first regular session of the 55th Arizona Legislature that are expected to have impacts on municipalities.
During the last regular session, 1,774 bills were introduced in the House and Senate. Two bills were introduced in the House and Senate during the special session. Of these, 474 passed the Legislature and were sent to the governor, 28 were vetoed, and 446 were signed into law. About 24% of these enactments affect cities and towns and are summarized in the Report. Read the 2021 New Laws Report by clicking here. For additional questions, reach out to Katherine Compton or Matt Lore at (602) 258-5786.