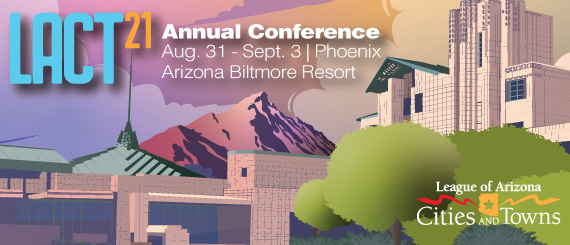 2021 League Annual Conference
We look forward to seeing you at the League Annual Conference in Phoenix, August 31-September 3.
Registration for the conference is now open. For hotel and conference registration information, please clicking here.
Extra Events:
In addition to the regular conference sessions, receptions, and meal functions there are several extra events you might be interested in attending at the League Conference in August. Please see below for more information.
Please note: Most of the events have a separate registration and cost.
Tuesday, August 31
8 a.m.
Biltmore Golf Club, Links Course
Event Cost: $105
Golf Tournament Registration

9 a.m. - 12 p.m.
Pre-Conference Session with the Center for the Future of Arizona
The Arizona We Want: An Action Agenda for Arizona's Future
Event Cost: Free
The Arizona We Want Pre-Conference Session Registration

1:30 – 4:30 p.m.
Pre-Conference Session
What Drives You as a Person, an Elected Official, a Manager and an Employee?
Event Cost: $40
Pre-Conference Session Registration
Wednesday, September 1
8:30 a.m.
15th Annual League Youth Program
Event Cost: $65 Youth Program Registration
Youth Program Registration

9:00 a.m.
Annual Parade of Flags Event
Event Cost: Free
Parade of Flags Registration
Thursday, September 2
8 a.m.
Mobile Tour: Tour of Musical Instrument Museum
Event Cost: $45 (Note: this tour is included in full spouse registration)
Thursday Morning Mobile Tour

6 p.m.
Showcase of Cities and Towns
City/Town Booth Event Cost: $210/$285 (Entrance to Showcase included with registration)
Showcase of Cities and Towns Booth Registration
If you have any questions, please contact League Staff at 602-258-5786. See you in August!