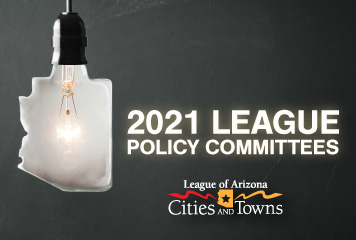 2021 League Policy Committees
League Policy Committees are currently underway. Participation on any of the five policy committees is your opportunity to be involved in policy development resulting in League Resolutions for cities and towns.
Below you will find a list of the next policy committee meetings in June. Please note: All policy committees will be held via Zoom conference call. If there are no policies to be discussed, we will alert the committee members letting them know that there will be no Zoom call/meeting.
Budget, Finance and Economic Development (BFED)
Chair: Mayor Kevin Hartke, Chandler
Staff: Tom Savage, tsavage@azleague.org
June 3, 2021 – 2:00 pm to 4:00 pm
General Administration, Human Resources and Elections (GAHRE)
Chair: Mayor Alexis Hermosillo, El Mirage
Staff: Tom Belshe, tbelshe@azleague.org
June 2, 2021 – 10:00 am to 12:00 noon
Transportation, Infrastructure and Public Works (TIPW)
Chair: Mayor Christian Price, Maricopa
Staff: René Guillen, rguillen@azleague.org
June 1, 2021 – 2:00 pm to 4:00 pm
Public Safety, Military Affairs and the Courts (PSMAC)
Chair: Mayor Jerry Weiers, Glendale
Staff: Roxanna Pitones, rpitones@azleague.org
June 3, 2021 – 10:00 am to 12:00 noon
Neighborhoods, Sustainability and Quality of Life (NSQL)
Chair: Mayor Sandy Moriarty, Sedona
Staff: Matt Lore, mlore@azleague.org
June 1, 2021 – 10:00 am to 12:00 noon