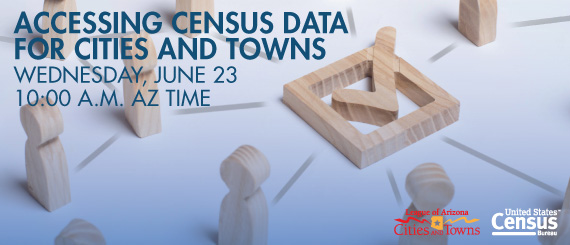 League Training
Accessing Census Data for Cities and Towns
Our Cities and Towns reflect the diversity and resiliency of this great Nation. Join the U.S. Census Bureau and our host partners, the League of Arizona Cities and Towns, to learn how to find and use census data about your community.
The purpose of the summit is to provide an overview of the latest Census data tools and data.census.gov, a new platform to access data and digital content from the U.S. Census Bureau. Participants will also learn how to access Quick Facts, American Community Survey (ACS) Narrative Profiles, and social and economic Data Profiles for communities and populations.
When: Wednesday, June 23, 2021
Location: Virtual
Time: 10 A.M.

Registration:
To register Accessing Census Data, click here.
Questions?
Email us at league@azleague.org or call 602-258-5786.