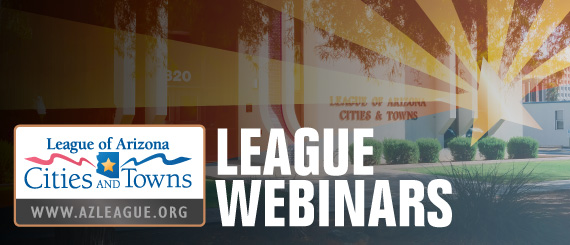 League Webinars
The League has a few webinars available in the coming month:

Informational Session: Arizona Environmental Infrastructure Authority Overview

When: Tuesday, February 2
Time: 11:00 a.m.
Where: Zoom
Cost: Free

Join Arizona Congressman Greg Stanton's staff as they provide an overview of a new federal environmental infrastructure authority Congressman Stanton secured for Arizona in the recently enacted Water Resources Development Act. The authority is designed to provide federal resources through the U.S. Army Corps of Engineers to assist small and rural communities address their water infrastructure needs.

The authority provides $150 million in federal assistance to non-federal interests, including cities, counties, and tribes across Arizona, for design and construction of water-related environmental infrastructure, and resource protection and development projects.

For a summary of the legislation, click here.

To learn more about how your city/town can utilize these funds, please register for this informational session by clicking here.

Questions? league@azleague.org.

The Basics of Budget Preparation in Arizona During COVID-19

When: Wednesday, Feb. 24
Time: 9:30 a.m. – 3:00 p.m. (includes a break for lunch)
Where: Zoom

Budgets are the annual financial plan that a city or town uses to deliver services to its citizens for each fiscal year. It sets the framework for the implementation of the services and is one of the most important processes a city or town undergoes each year.

With COVID-19, this has been even more challenging for Cities/Towns. This session will cover how a budget is developed with revenue and expenditure projections, the impact COVID-19 has had on budgets and how it can be effectively communicated to elected officials, staff and citizens.

Who: Pat Walker, Principal Owner, Pat Walker Consulting
Cost: $40
Registration: To register for the Budget training, please click here.

Link to Zoom webinar will be sent to all attendees two days before the event.

For questions on any of these trainings, please call 602-258-5786 or email league@azleague.org.