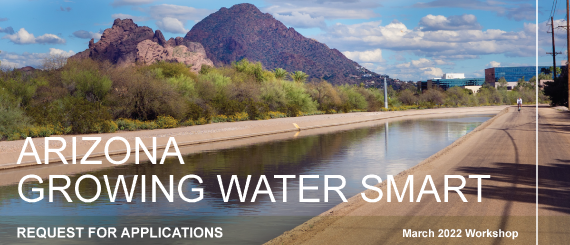 Arizona Growing Water Smart Workshop
The Growing Water Smart program helps local government leaders ensure that water-related growth and development challenges are collaboratively and proactively addressed in their Community. Build resilience by enhancing the sustainable management of your water resources – apply to attend the Growing Water Smart workshop here.
Workshop Dates:
March 1–3, 2022 in Phoenix, AZ*
Applications are due:
November 15, 2021 5:00 PM
Attend with your team of land use planners, water providers, elected officials, planning commissioners, and other water professionals. We will share a range of public engagement, planning, communication, and policy implementation tools and facilitate your team to ensure your community can realize its water efficiency, watershed health, and resilience goals.
This highly collaborative workshop provides a great opportunity for counties, municipalities, or regions to link water and land use, create an action plan, and qualify for technical assistance to support your path forward. There is no cost to participating teams. Any community in Arizona is welcome to apply.
*We are monitoring COVID-19 conditions and will transition to a virtual workshop if needed.
Have questions? Feel free to reach out to us at climateresilience@sonoraninstitute.org