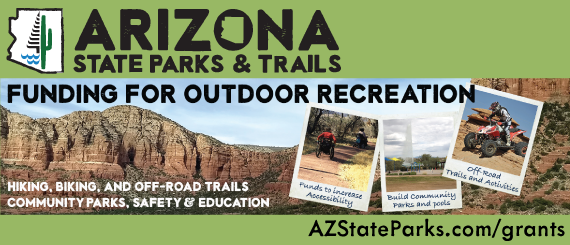 Grant Funding Available from Arizona State Parks and Trails!
If your outdoor recreation or historic preservation project needs funding, Arizona State Parks & Trails may be able to help! The agency has funded more than 2,000 independent projects through our grant program—that's over 2,000 projects for trails, playgrounds, accessibility improvements, historic preservation, and more! This program is open to applicants year-round.
This year, the addition of Heritage Fund and State Lake Improvement Fund (SLIF) dollars offer a combined $9 million in available grants. Non-profits, clubs, and local, regional, state, federal and tribal governments are invited to apply for various motorized and non-motorized recreational trails, facilities, and playgrounds. Grants are also available for historic preservation and programs that improve accessibility, outdoor education, and group areas.
Arizona State Parks and Trails (ASPT) offers grant workshops throughout the year to provide information on the grant application process and help you be successful. With the addition of the two new grant opportunities, there are even more ways to help eligible organizations improve their amenities for visitors. To learn more or to apply for a grant, visit: AZStateParks.com/grants.